Reasons a Patent May Be Denied
July 8, 2022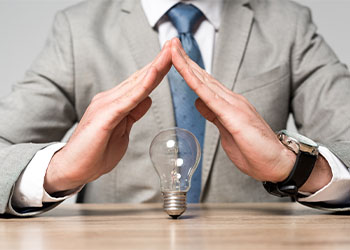 The United States Patent and Trademark Office (USPTO) receives more than 600,000 patent applications each year and grants close to 350,000 patents. However, the approved applications aren't all from the same year of submission because an application can take more than a year or two to make its way through the process.
If you go by the raw figures, however, about 50 percent of all applications received are ultimately approved. In 2020, the latest year for compiled statistics, the approval rate was 54.4 percent, but again, remember that applications can take more than a year for approval.
The website BigPatentData also crunched the numbers and came to the conclusion that almost 80 percent of all patent applications submitted receive at least one non-final rejection, and 40 percent receive a final rejection at some point during the process.
In short, you can expect utility applications – the broadest category of submissions – to be rejected at least once, but you can request reconsideration and take other steps to pursue the approval you seek. Design patents tend to have a greater chance of approval upon first submission.
If you've hit a roadblock in your patent application, and you're in or around Jacksonville or St. Augustine, Florida, contact me at the Law Office of Mitchell Ghaneie, P.A. I have helped clients with hundreds of patent and trademark applications. I know the system and can help you navigate through all the necessary steps, including filing an appeal if necessary.
The Patent Process: Approval and Denial
Most people associate patents with inventions. This is the largest category of patent applications submitted yearly. Inventions – new machines, processes, or systems – are considered utility patents. Patents are also available for ornamental designs, for products, and for new plants that are produced by cuttings or other nonsexual means.
Not only do utility patents represent the vast majority of annual applications – 92 percent in 2020 – but they also are subject to the most rigorous scrutiny and thus face the most rejections. They also require sufficient documentation and illustration to enable the examiner to judge the submission.
Reasons for Denial
When applying for a patent, the applicant must first conduct a search of current patents to make sure what they're submitting is novel and nothing already patented is similar. In the course of weighing your application, the examiner may determine that a previously patented invention is too similar to yours and will reject your application.
This means that you may not have conducted a comprehensive enough pre-application search or that the rejection may have been based on insufficient details and/or errors in your application. Your description may not have fully explained the uniqueness or purpose of your invention. It may have lacked sufficient technical details.
Even if your patent is unique, incomplete or improperly filled-out applications and supporting documents can also lead to a rejection, or at least be sent back for reworking through what is called an Office Action.
Another reason for rejection is that your invention is too obvious. In other words, it is not unique or inventive enough to separate it from already existing patents. Your invention lacks useful or innovative features that would elevate it above existing inventions.
What to Do if Your Application Is Rejected
The patent process is interactive. Your examiner may question your application and cite the reasons so you can respond. The USPTO calls this an Office Action. You have three months to reply to an Office Action, but you can extend the period by paying an additional fee. You and your attorney can respond by changing the scope of your claims for your invention or by presenting additional details that clarify why you think your patent should be granted.
If your examiner does reject your application, you can file an appeal with the Board of Patent Appeals and Interferences (BPAI). The United States Code (USC) states: "The Board of Patent Appeals and Interferences shall, on written appeal of an applicant, review adverse decisions of examiners upon applications for patents and shall determine priority and patentability of invention in interferences..."
Another option is to file for a continuity application. A continuity application – which is almost like an initial application and requires a separate filing fee – is useful when the patent examiner has allowed some of your original claims in your application but rejected others. The continuing application focuses on clarifying sections in the original application that need further examination.
Seek Legal Guidance Every Step of the Way
You'd be surprised at how many patent applications run into trouble because of the language used in describing the invention being applied for. The use of generic or imprecise words can lead examiners to question what the applicant is claiming for his or her invention.
That's why it's important from the very beginning to rely on an experienced patent attorney to help you create and assemble the documents and illustrations needed to justify your patent claim.
The patent process, even when it goes smoothly, can take a year or two, and if the application package keeps getting returned via an Office Action, that can only slow the process. A rejection can stop the process until you appeal or file a continuing application.
If you're seeking a patent application or need help in responding to an examiner's questions or with filing an appeal over a rejection, and you're in or around Jacksonville or St. Augustine, contact me at the Law Office of Mitchell Ghaneie, P.A. I have the experience and resources to help you navigate your patent application through every phase of the process.